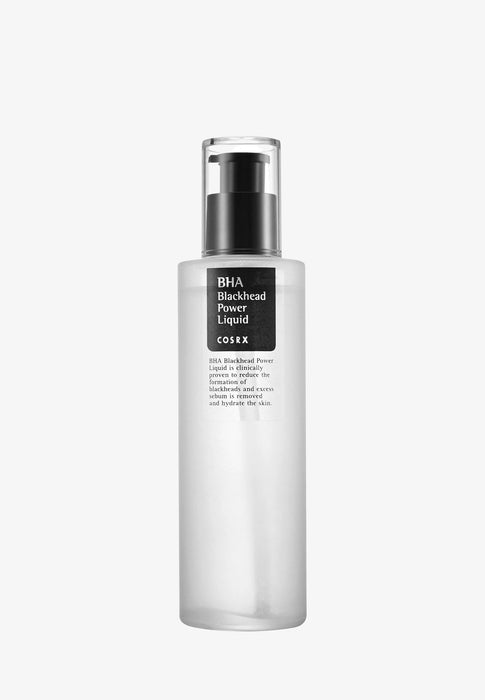 COSRX - BHA BLACKHEAD POWER LIQUID (100ml)
Sold out
Original price
€26,99
-
Original price
€26,99
COSRX - BHA BLACKHEAD POWER LIQUID (100ml)
The BHA Blackhead Power Liquid exfoliates and helps to remove blackheads and dead skin cells. It penetrates deep into the skin and cleanses clogged pores. Please do not use this product in combination with other highly concentrated AHA, BHA, or Vitamin C products.


Recommended application:
Apply the product to a cotton pad and gently swipe it over the face, avoiding the mouth and eye areas. Depending on your skin condition, use it 2 to 3 times a week.
Active ingredients
CONTAINS 65% WILLOW BARK WATER AND 0.9% BETAINE SALICYLATE (BHA), WHICH GENTLY REMOVES BLACKHEADS AND DEAD SKIN CELLS BY PENETRATING DEEP INTO THE SKIN AND CLEANSING CLOGGED PORES. IF THE PEELING IS USED DURING THE DAY, APPLY SUNSCREEN AFTERWARDS. DO NOT USE TOGETHER WITH OTHER PRODUCTS CONTAINING HIGHLY CONCENTRATED AHA, BHA OR VITAMIN C. EFFECT: EXFOLIATES AND PROVIDES SOFT, CLEAN SKIN.